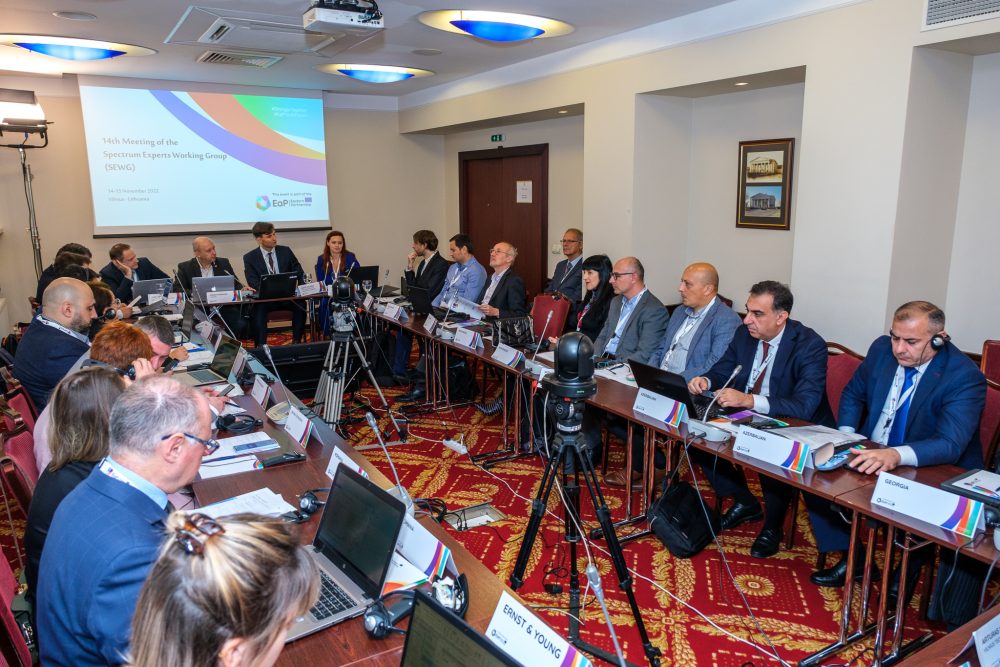 On 14-15 November 2022, the 14th meeting of Spectrum Expert Working Group of Eastern Partnership Electronic Communications Network took place in Vilnius, Lithuania. This year it was organized by RRT, as one of the group Co-Chairs, in cooperation with the European Commission. Eastern Partnership and EU radio spectrum experts discussed radio frequency coordination issues relevant to both regions.
"International cooperation between Eastern Partnership and European Union regulators is more than ever important. Sharing of information and experience in regional harmonization of radio frequencies will help to ensure competitive market, and for consumers – high quality and secure communication ", – in his welcome speech noted Darius Kuliešius, CRA Council Member.
In a two-day Spectrum Expert Working Group SEWG meeting, the experts discussed and shared their experience and information on 5G network roll-out, spectrum sharing, mobile network coverage, T-DAB+ technology development, and other topical matters.
SEWG participants also discussed the possibilities of concluding Regional Spectrum Agreement, RSA. This document would establish a harmonized freeing-up and usage of 700 MHz and 3,5 GHz bands for 5G networks and services development in Eastern Partnership (EaP) countries. This initiative is of mutual importance and relevance to both EaP and EU regions.
Coordination of RSA started in 2020. However, Russia's war against Ukraine impeded the plans to sign the agreement. At SEWG meeting, solutions were sought to conclude RSA by EaP countries in the nearest future, leaving room for Ukraine to join RSA later.
SEWG meeting in Vilnius was attended by representatives of the regulatory authorities from Azerbaijan, Armenia, Georgia, Moldova, Ukraine, Latvia, Germany, Montenegro, Romania, and the Czech Republic. Presentations were made by invited speakers from the European Commission Directorate‑General for Communications Networks, Content and Technology (DG CNECT), European Commission Radio Spectrum Policy Group (RSPG), International Telecommunications Union (ITU), Body of European Regulators for Electronic Communications (BEREC), WorldDAB – global industry forum for DAB digital radio, and Vilnius Gediminas Technical University.
SEWG is chaired by the Georgian Communications Commission (ComCom), RRT and Electronic Communications Office (VASES).
Additional information:
EaPeReg Network was established in 2012, this year it celebrates its 10th Anniversary.
Currently active Network members – electronic communications regulators from Azerbaijan, Armenia, Moldova, Georgia, Ukraine, and several EU countries.
The activities of EaPeReg are organised into three Expert Working Groups (EWGs): Regulatory Independence and Broadband EWG, Roaming EWG, and Spectrum EWG. The latter two EWGs are chaired by RRT, together with EaP countries.
Updated on 2022-11-16