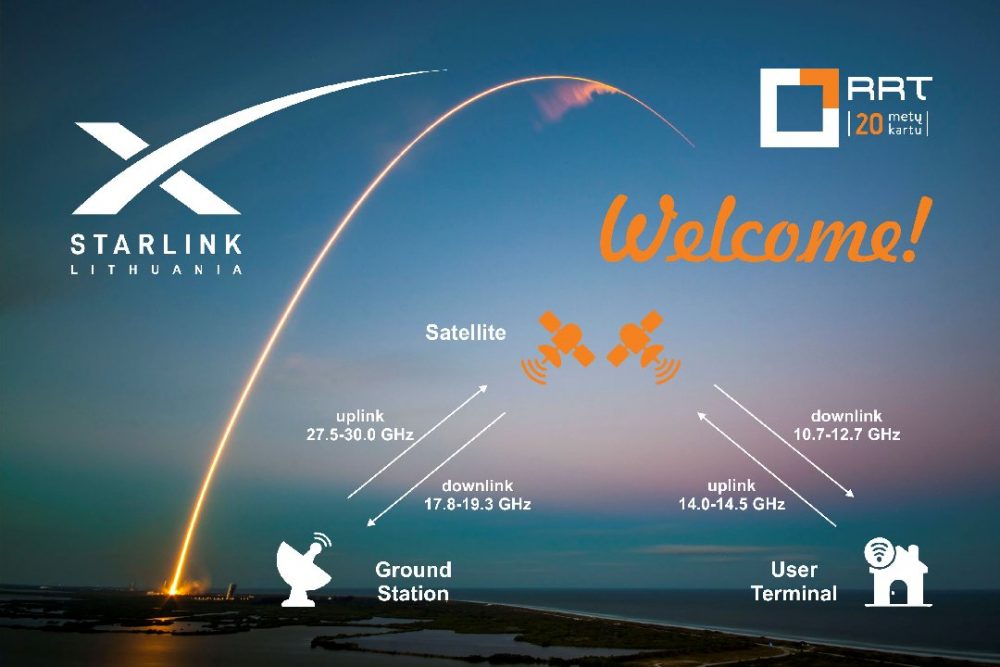 On the 3rd of December 2021 USA space technology company "SpaceX" started providing "Starlink" satellite internet services in Lithuania. The team of Radio Communications Department of RRT was actively involved in this process, following the electromagnetic compatibility assessment and international coordination procedures it issued permits to subdivision of "SpaceX" to use radio frequencies (channels) for the provision of broadband satellite internet service. In the nearest future, the subscribers in Lithuania can expect data transfer of up to 100–150 Mb/s.
The number of "Starlink" satellites is constantly increasing, more and more Earth stations of this network are installed around the world and the software is developed. One of such Earth Stations will also be installed in Lithuania in January 2022. This station will significantly improve the quality of services in our region", claimed Mindaugas Sruogius, an expert of satellite radio communications service of RRT.
The heads of "Starlink Lithuania", a company established by "SpaceX" in Lithuania, expressed their sincere gratitude to the leaders and experts in the field of electronic communications in Lithuania for their extensive knowledge of radio spectrum management and international coordination procedures. Because of the constructive discussions and cooperation of all the parties involved in the process, it was possible to find the optimal solutions efficiently and quickly in order to make this service available in Lithuania.
"It is difficult to predict the future role of "Starlink" project in the field of Lithuanian citizen and business data transmission services, but we can already be sure that the development of terrestrial infrastructure will contribute to the development of new innovative technologies and strategic goals of electronic development," emphasized M. Sruogius.
Updated on 2021-12-08