Relevant information published by  RRT related to COVID-19.
Recommendations regarding uninterrupted provision of electronic communications services during the quarantine period
RRT advises to use communications resources responsibly
During pandemic period the Communications Regulatory Authority advises to use communications resources responsibly:
1. Avoid entertaining on the internet during peak hours (8-17 h) when a connection is needed for working and learning.
2. Don't upload large files, if it's not very important.
3. If there are problems with mobile calls, for callings use special apps.
4. For working and learning process use digital tools that require less internet connection and other resources.
5. Encourage kids in their leisure time find activities in real, not virtual world.
6. Take care of personal devices (and also self) security, much advice could be found on
www.esaugumas.lt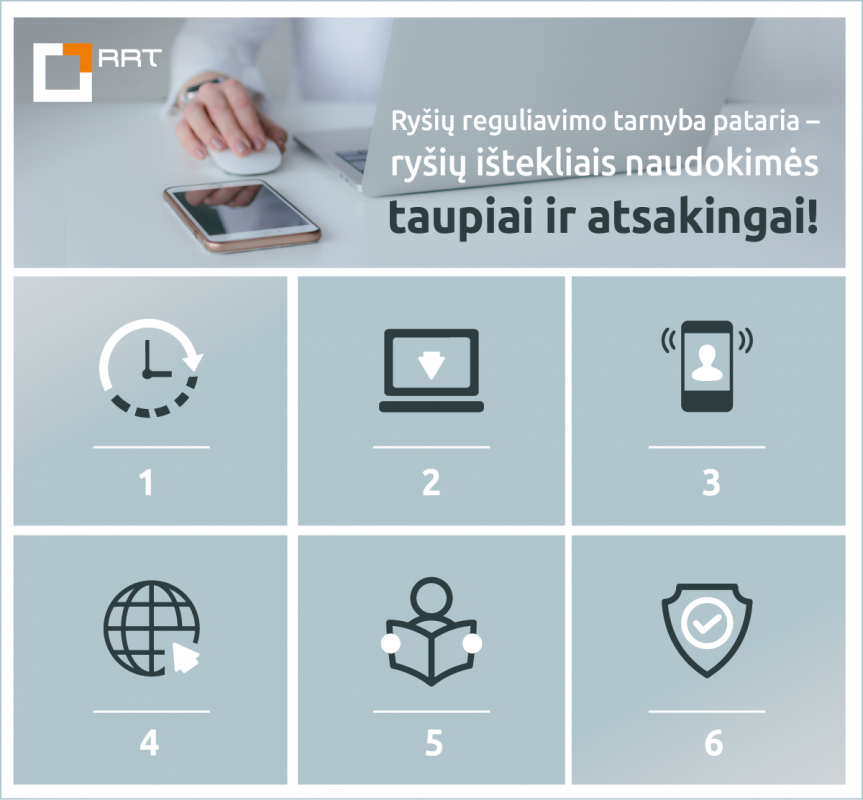 Recommendations for safe in-house service visits in case of service disruption
During the COVID-19 quarantine period, when electronic communications services have become essential and necessary for the general population, providers of electronic communications services face challenges in ensuring timely resolution of reported malfunctions/disruptions.
RRT receives questions from electronic communications service (television, internet access, etc.) providers regarding the provision of services during the pandemic. In order to ensure communication and properly remedy malfunctions/disruptions if they occur in an appartment block, flat, house, office, etc., and remote troubleshooting is not possible, representatives of the service providers must visit the site.
In response to enquiries, RRT contacted the Ministry of Health, which shared recommendations on the use of personal protective equipment to protect against COVID-19 (coronavirus infection) in non-health sector settings.
We encourage the electronic communications service providers to familiarise themselves with the recommendations and to ensure the safety of their employees and customers during in-house service visits in case of electronic communications service disruptions.
We also remind residents that sometimes service disruptions cannot be resolved remotely, in which case a visit by a service provider representative is necessary, even during the quarantine. If you have reported a disruption in the provision of electronic communications services and upon arrival the engineer provides evidence of a representative of the service provider and complies with the recommendations of the Ministry of Health on the use of personal protective equipment, we recommend that you do not refuse the service provider representative visit for the sole reason of the quarantine, and we remind you to observe a safe distance and minimal contact during the on-site service visit.
COVID-19 and e-communications: global practice and international examples
The website of the International Telecommunication Union (ITU) presents the experiences of various countries around the world in ensuring the smooth operation of the electronic communications sector and exploiting solutions to manage the COVID-19 situation:
https://www.itu.int/en/ITU-D/Regulatory-Market/Pages/REG4COVID.aspx
The European Global Navigation Satellite Systems Agency (GSA) presents a range of solutions based on GNSS-Galileo positioning systems useful in the context of COVID-19: from helping public authorities to understand the dynamics of the virus or protecting critical professions to practical applications for businesses and citizens, e.g. designed to manage queues in supermarkets, self-assess one's symptoms, ensure self-isolation:
https://www.gsa.europa.eu/GNSS4Crisis
Advice and recommendations from the GSM Association (GSMA) of operators to address the challenges of COVID-19:
https://www.gsma.com/newsroom/covid-19-industry-updates-and-guidance/
BEREC reports on e-communications network capacity in the EU (updated twice a week)
The Body of European Regulators for Electronic Communications (BEREC) regularly publishes reports based on information provided by electronic communications regulators on the situation in European electronic communications networks under COVID-19 conditions.
BEREC report on the status of internet capacity during the COVID-19 crisis (as of 8 April 2020) can be found here.
Updated on 2020-04-15