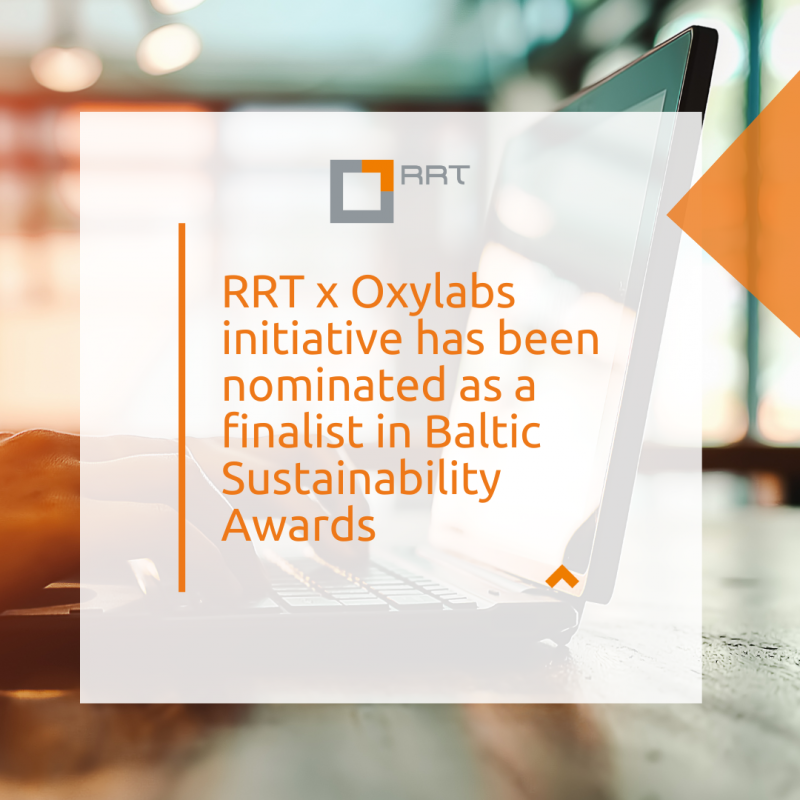 AI tool for detecting illegal and harmful content (incl. sexual child abuse and pornography) online developed by Oxylabs and used by the Communications Regulatory Authority of the Republic of Lithuania CRA has been selected as a finalist at the Baltic Sustainability Awards. This initiative has been recognized in the "Impact" category and is a finalist in the  "Social Initiatives" subcategory for its work in fighting illegal and harmful content online. The winners will be announced at the Baltic Sustainability Forum & Awards Ceremony on November 30 in Riga.
"We are happy and honoured that a joint Oxylabs and CRA initiative has gained such an important recognition. It is a great example of public-private partnership. As a governmental body, RRT is constantly on the lookout for innovative digital solutions that will allow us to be proactive and excel in serving the Lithuanian society. The AI tool developed by Oxylabs perfectly serves this purpose. But that's not all. If it helps to protect at least one child, this will have a huge impact and difference for the future sustainable society," – noted Jūratė Šovienė, Chair of CRA Council.
During the first two months of its use in 2022, the Oxylabs-created tool scanned around 288 000+ Lithuanian websites. After carefully investigating reported images, 19 websites were identified as violators of national or EU laws, and specific measures were taken to remove illegal content.
"We are grateful for the recognition of our joint endeavors with CRA to make the internet a safer space," said Julius Černiauskas, CEO of Oxylabs. "When creating this tool, there was a lot of excitement in the office, as it was not only a great challenge but also benefited the greater good, protecting the most vulnerable groups of our society. We believe that such partnerships contribute to a world where justice and strong public institutions are the centerpiece of society."
The successful cooperation between CRA and Oxylabs started at Govtech Lab Challenge in 2020, where CRA presented its challenge and need for an Artificial Intelligence-driven tool that would help to find illegal content on the internet in Lithuania. Oxylabs won the challenge and, pro bono, created a unique AI-powered web scraping tool that automatically scans the Lithuanian IP address space to find the harmful images. If found, the content is automatically forwarded to the Hotline of CRA for the review of CRA specialists.
Before that, CRA acitvity in the fight against illegal or harmful content depended on regular internet users' goodwill, who would voluntarily report illicit content to a special internet hotline. After fully employing the tool in their daily operations, CRA took the front seat in the process.
Held for the second time, Baltic Sustainability Awards selected 29 finalists from more than 240 applications from enterprises, organisations, startups, and expert in Estonia, Latvia, and Lithuania. It is a Baltic region competition aimed at highlighting the importance of sustainability innovations and inspiring new achievements.
***
CRA reminds that internet users are encouraged to report illegal (prohibited to post) or harmful (having negative impact upon minors) content found on internet, at https://www.svarusinternetas.lt/ . The reports can also be submitted anonymously. The instructions on how to report about noticed illegal or harmful content on internet as well as what is the further course of investigation of such reports can be found on this video: https://www.youtube.com/watch?v=TXRBMU4sfOk . For more information about safe and responsible internet behavior, please visit the websites www.draugiskasinternetas.lt and www.esaugumas.lt.
Updated on 2022-11-24