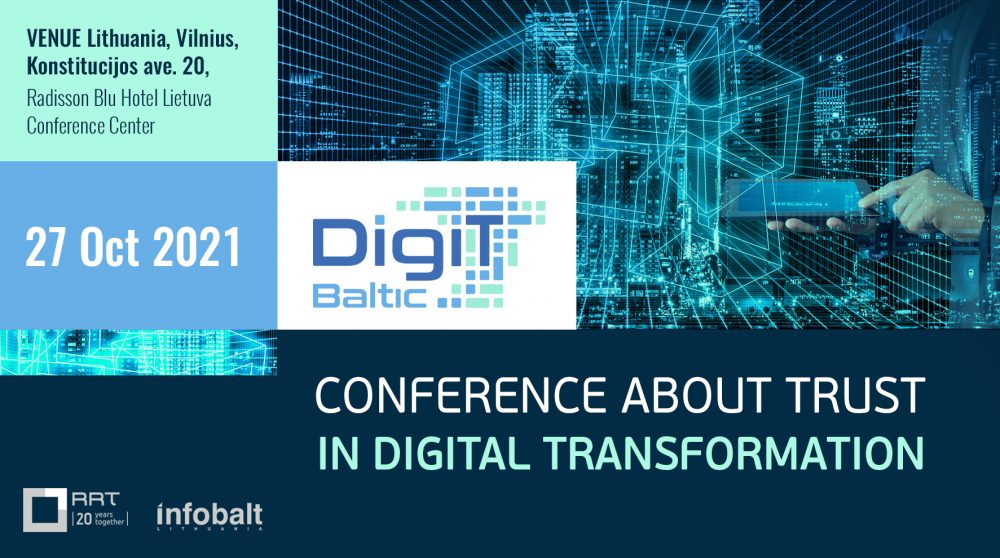 "DigiT Baltic 2021"– an international conference organized by the Communications Regulatory Authority (RRT) and DigiTech Association "INFOBALT" on October 27th! The conference's primary goal is to introduce the Baltic countries to the tools set out in the EU eIDAS Regulation: electronic signature, electronic seal, electronic time stamp and other innovative digital solutions used to ensure the security of digital transactions.
During "DigiT Baltic 2021", representatives of the public and private sectors of ENISA, ETSI, FESA, Lithuania, Latvia, Estonia and Ukraine will discuss topical issues of trust services and e-identity, share their experience and insights, and answer questions:
– How do digitization tools help businesses and citizens?
– Are electronic signatures and other trust services secure, and why should they be trusted?
– How can we use e-identity in digitization?
– How do the tools managed by the European Union's eIDAS Regulation help ensure digital security: electronic signature, electronic seal and electronic timestamp? How to ensure that these tools would not only simplify the working process but also make it safer?
"DigiT Baltic 2021" is planned as a hybrid event, based on a physical venue in Vilnius (Lithuania), hotel Radisson Blue Hotel Lietuva (Konstitucijos 20) and supplemented with a possibility to join the event virtually. The conference is held in English.
You can register for the conference and get acquainted with the program here: https://digitbaltic.com/  
Save the date and let's meet at the "DigiT Baltic 2021" conference!
Updated on 2021-10-14