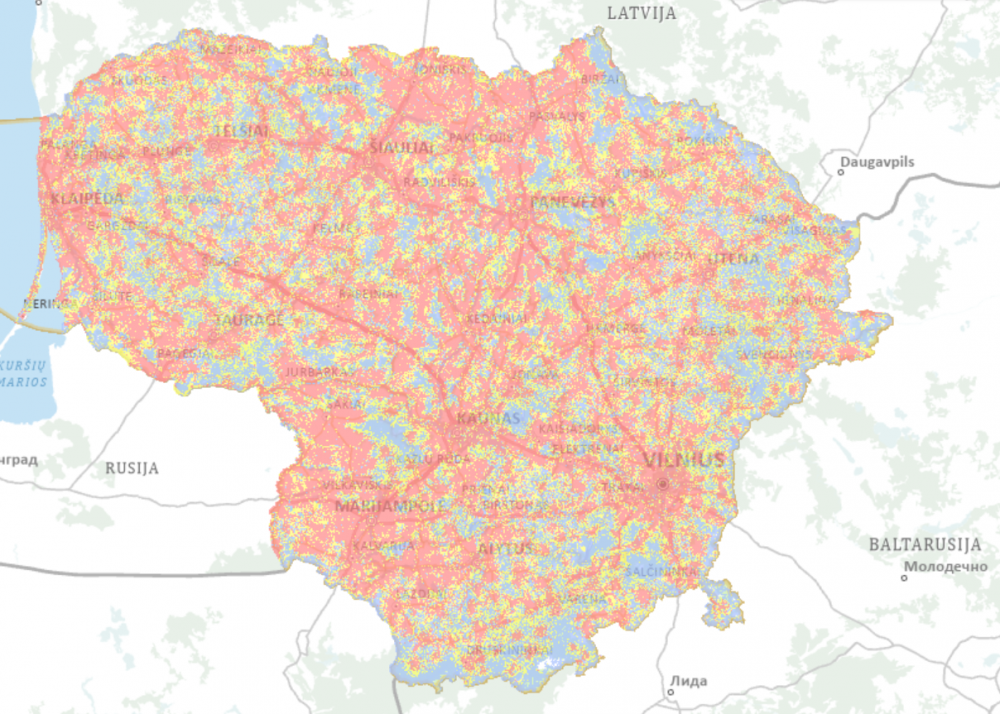 The Communications Regulatory Authority of the Republic of Lithuania (RRT) publishes the latest maps of the expected coverage areas and 4G speed of the networks of mobile communication operators UAB "Bitė Lietuva", "Telia Lietuva" AB and UAB "Tele2". The performed theoretical calculations show that mobile communication using 4G technology currently covers 94.5 percent, 3G – 95.9 percent and 2G – 94.7 percent of the territory of Lithuania. While assessing the expected speed of mobile communication, it can be seen that with an average network load (50 percent), 30 Mb/s speed services can be provided to 87.9 %, whereas 100 Mb/s – to 46.3 percent of the population.  
 "We regularly perform calculations of mobile coverage and speeds and present the obtained data publicly on detailed maps so that the user can check and evaluate the quality level of each operator in order to find out which operator's mobile signal is strongest in the relevant area", stated the Deputy Director of RRT A. Čėsna. "We would also like to highlight to the users that in Lithuania, as in the rest of the world, it is intended to abandon 3G technology, as it is being successfully replaced by the newer generation – 4G and 5G – technologies. Such shift is dictated by the market itself and the needs of the users, thus, today we already recommend all the consumers not to buy devices that are not suitable for 4G or 5G connection. More advanced technologies will ensure better data transmission quality and speed for the users; therefore, we can expect even better results in the future", emphasised A. Čėsna.
The calculations performed by RRT supplement the regular control measurements of mobile data transmission speed and allow to estimate the speed coverage throughout Lithuania. The data will assist in closer monitoring of the Lithuanian progress in the field of electronic communications, and will also be used in the preparation of Lithuanian indexes for the annual DESI index report of the European Commission to assess the development of digital competitiveness in the EU Member States.
Calculations were performed in accordance with the data of base stations provided by the operators and registered by RRT until the 1st of October 2021, applying uniform methods to assess the impact of terrain, buildings and forests in the area. The theoretical calculations of RRT may differ from the actually measured data transfer rate. It depends on the concrete location, the instantaneous load of the base stations operating it, the location of the user (inside or outside the building), the end equipment used as well as other factors, therefore, this information cannot be used directly in public procurement procedures, selecting the services of a certain mobile connection operator or when making different decisions on the actual coverage, speed or quality of the connection.
The maps are published on the website of RRT at http://epaslaugos.rrt.lt/apreptis/.
Updated on 2021-12-01